The Rise in Demand For SEO Brings More and More Tools
In 2018, the United States saw the average monthly Civilian Labor Force increase by just over 1 percent. During that same time though, the demand for jobs in the Search Engine Optimization field increased by nearly 7 percent. In 2020, with Artificial Intelligence driving other advanced methods of search, for example using our voice as well as images, we should expect that number to continue to grow.
Along with the upward trending demand for SEO jobs is the increased demand for available tools for those who fill those jobs to use. These tools come in the form of free browser based plug-ins, apps and programs you can install on your device, all the way to hosted "Software as a Service (SaaS)" paid solutions. They cover various aspects like SEO audits, keyword research and planning, as well as search engine rank checking, just to name a few.
In this post, we will detail what general aspects of SEO and digital marketing these tools cover. Additionally, we will discuss why these tools make the people that use them more efficient and more effective search marketers, and how this translates directly to your business's bottom line.
This post also serves as the intro to a multi-part series that will focus on the specific SEO tools we use at comebefound.
Let's not waste any time and get right into it!
The Right Tool for the Job?
Having the right tool for the job or task that is in front of you makes a world of difference. But equally important is knowing which tool is the best fit for what job.
For example, you wouldn't use a razor blade to cut down a tree would you? Or would you use an axe to shave?
It's absurd!
When it comes to tools for the SEO expert, having the correct one at their disposal is critical for them to get the task accomplished, to get the job done. But it goes beyond just getting it done. These tools also are what can mean the difference between keeping up with the competition or beating them. Like with any marketing, an SEO expert is in a race against the competition. This is not a 100 meter sprint, however. SEO is much more like a marathon, where long term consistency is more important than a quick burst off the starting line.
At this point, I think we have clearly illustrated the importance of not only using the SEO tools that are available, but also using the right one for the task that needs to be accomplished.
But what are some examples of what these tools are actually doing?
Let's take a scenario from beginning to end, from idea to delivery, and highlight what are some aspects of SEO and digital marketing that are required with the type of tools that might be used.
Roofus Needs a New Bed
One day, the owner of the small business where you work, "Big Dog Toys", says that the company's online sales of "Pooch Pad" specialty dog beds for older dogs are declining, and they want to run a marketing campaign to try and boost sales. It is decided that a landing page on the company website that focuses on the beds will be designed as well, to go along with this campaign. As the resident digital marketing specialist on the team, you are tasked with getting this designed, developed, and published. Where do you start?
One place that it might be worth starting at is seeing what the competition is doing, after all, the company's sales are down, so maybe those customers went elsewhere? To do that, you would want to use a tool that lets you research queries related to the product you are marketing.
Most keyword research tools let you input a query and see what variations of that term are popular, where they are popular, as well as how trends have changed over time. In fact, even Google's related search predictions can give you some good ideas to start with. In our scenario, you could start with "older dog beds" and see what comes up.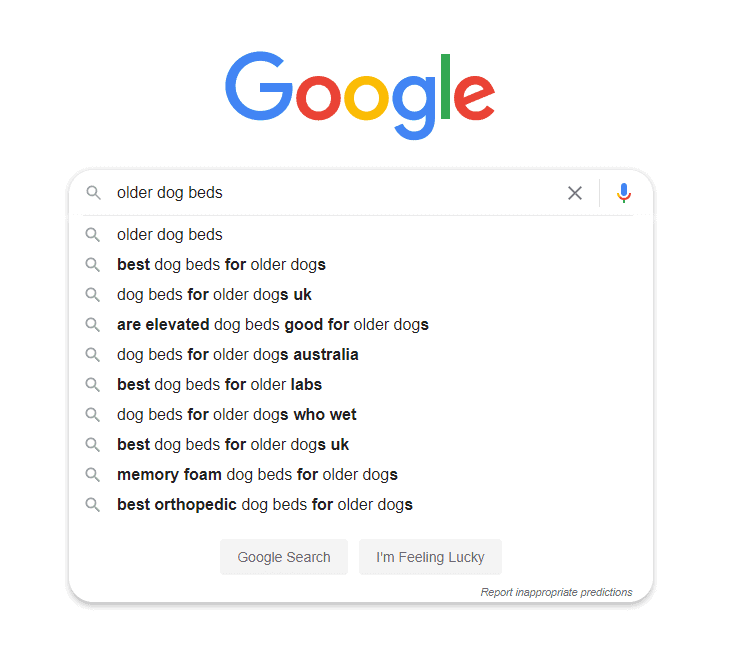 Putting this search in a keyword research tool though may indicate that a national chain holds most of those results. If that is the case, it is highly unlikely that your small business would be able to compete. Instead, you might find a similar term that is locally specific would be better.
Ultimately, you decide on a something that meets the criteria, has local interest, and is something your potential customers would enjoy anyway. You go with page that reviews what are the needs to consider when choosing a bed for older dogs, titled "The Most Important Things to Consider When Choosing a Bed for Your Older Dog".
Great! Now what? Well now that we have a basic idea, we need some content to develop our idea with. What SEO tools could help you with that?
Be Informative, Not Salesy
Now you have a general idea of what your content should be, so how can you make it a reality? It's important to focus on the type of content we need to create, and we are already well on our way. Consider what has already been decided. We are looking for:
A landing page that focuses on the "Pooch Pad" specialty dog bed
A rough idea of some keywords that we can target
A page that serves as a review of top considerations for our target pet owner
Now, you still have several directions you could take this, but they are all focused on our product, our keywords, and the searchers intent of our target audience.
Let's next consider some examples of content types along with the SEO tools you could use.
---
Lists
Lists are articles that are formatted to make them easier to quickly read and get information. For example, you might have a list of the "10 Best Dog Hair Trimmers". Each of the items might have a brief description of the item, what makes it useful, and so on.
To build an effective list, you need to take a hands on approach if possible. Meaning, you need to actually try the things you are writing about, or have someone give you their feedback. So, your best tool here is just time and effort, and maybe some creativity. But to help guide your content, an SEO plugin or feedback tool can help. These examine your copy, and can give some suggestions on length, readability, formatting, and keywords.
Guides
Similar to a list would be a guide, but it would be more in depth, and typically would focus on one primary topic or product. You might have a guide called "The No Fuss Haircut for your Shaggy Haired Dog" that explains this topic and provides some practical advice and suggestions.
To write an effective guide though, you need to know what you are writing about. Going off of someone else's experience or information you find elsewhere can backfire, so it is always best to have first hand knowledge of the topic at hand. And again, as with lists and other primarily text-based content, they should be run through a tool to examine it for best SEO practices.
Along with these kinds of content types, we can also pepper in some other forms of content to help get our point across.
Images
"A picture is worth a thousand words" is a saying that has been around for decades, and the idea has been conveyed for centuries. When it comes to SEO and effective content however, an image may not be worth a thousand "keywords", but it is still a very effective marketing method.
Images quickly convey feeling, thought, ideas, and principles in a way that can be immediately relatable to the reader. Additionally, an interesting image might be what they remember first, with the point it is making second. Images are an extremely effective means of communication and are highly useable for SEO. Any images from a search of public domain property, or even your own images of products, staff, and so on, are highly recommended.
Videos
What could be better than a still image but a moving one? Online videos have really taken off for showing how something works, how to do something, reviews, unboxing, cooking, and just about anything else someone would want to see. Video SEO is a whole other topic entirely, and beyond the scope of this series, but, it has it's place and can be very effective.
There are free promotional style video editors out there, and of course the likes of YouTube to host them. Depending on your company though, your results may vary on what you get from posting videos and trying to increase traffic. If your company does not deal with visually appealing products or services, it can take an enormous amount of time and resources to make it work. And the result may come off looking more like a 90s-era infomercial, so unless that's what you are going for, tread carefully.
Infographics
As the name suggests, images that are filled with topical information are "infographics". These are great ways to convey important data in a way that is not completely boring to read. With proper planning and optimization, infographics are a sure way to drive traffic to your page.
There are a number of free and paid infographic generators and templates out there, so pick one, and have fun with it. You really cannot go wrong here, as long as you back up your data with facts and use infographics to bolster your points, not make them for you.
Social Media
Quick, easy to digest short bites of info that can reach an audience in seconds has made social media one of the darling children of the SEO field. We actually covered some best practices when using social media for marketing already! Check that out here.
Point is: when used properly, social media is a great way to get the word out to your current and potential customers.
These are some basic overviews of some of the kinds of tools that cover various aspects of SEO.
---
For our example, we are going to combine a few of these, using a list of important factors and show where our product meets those considerations, or not. Obviously, we want to emphasize that our product is the one the customer needs because it does fulfill their needs in this regard, but it is best to do so with honest facts. This helps build credibility and lets us come across to the customer as having their (and in our scenario their dog's) best interests in mind.
Measure 102, Cut 200

You did it! You gathered info on your product, got the point of the campaign, decided on some focus keywords based on actual data, drafted a list that has local interest and directly targets your audience, and your content has images, infographics, and even a video of your own dear mature dog using the bed! Nice!
Hopefully by now and with the sample scenario we presented, you can better see the practical effectiveness of using tools for nearly every part of doing SEO. Of course, there can never be an exhaustive list. New tools, methodologies and technologies are always emerging. But the point is to know how to use the tools you have. If you don't, you'll never seem to have the "right" tool for the job.
The Proof is in the Position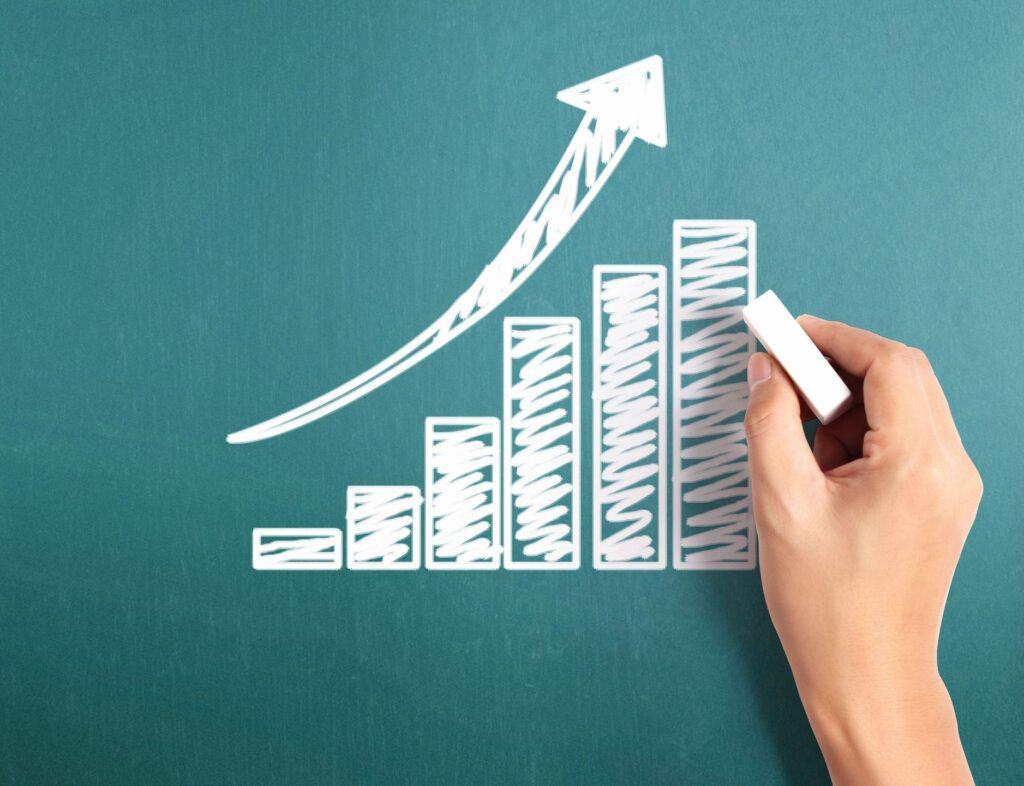 Many of these areas of what a typical SEO expert is tasked with that we discussed have free or trial access available. Other than your time, they won't cost anything. Of course, while this can work out just fine, there are times when you really can only get the information you need to effectively do the job by paying. How can you justify these costs though?
Pretty easily actually.
As we have noted, only around 1 out of every 4 searchers will go past the first page of their search results. The vast majority of traffic is at the top. Is your business comfortable consistently missing out on these potential customers?
Think of it this way: You give your outside sales person a list of 100 potential customers to contact. When you follow up with them though, you find out they only attempted to contact 25 of them. Would you be satisfied with that? Of course not!
Then why is your website any different?
All things are not the same to all people, and that is true about businesses as well. So, a "one size fits all" approach to SEO may hardly generate any revenue, and in fact, it may very well cost you. It is up to you to determine what is a reasonable branch of the marketing budget to set toward SEO, and what will get you the most return on that investment.
Of course, we can help you with this!
I hope you enjoyed this article, and our subsequent articles to follow will focus on tools we actively use ourselves each and every day.
Please comment below with your thoughts, and if you would like more information, please contact us!