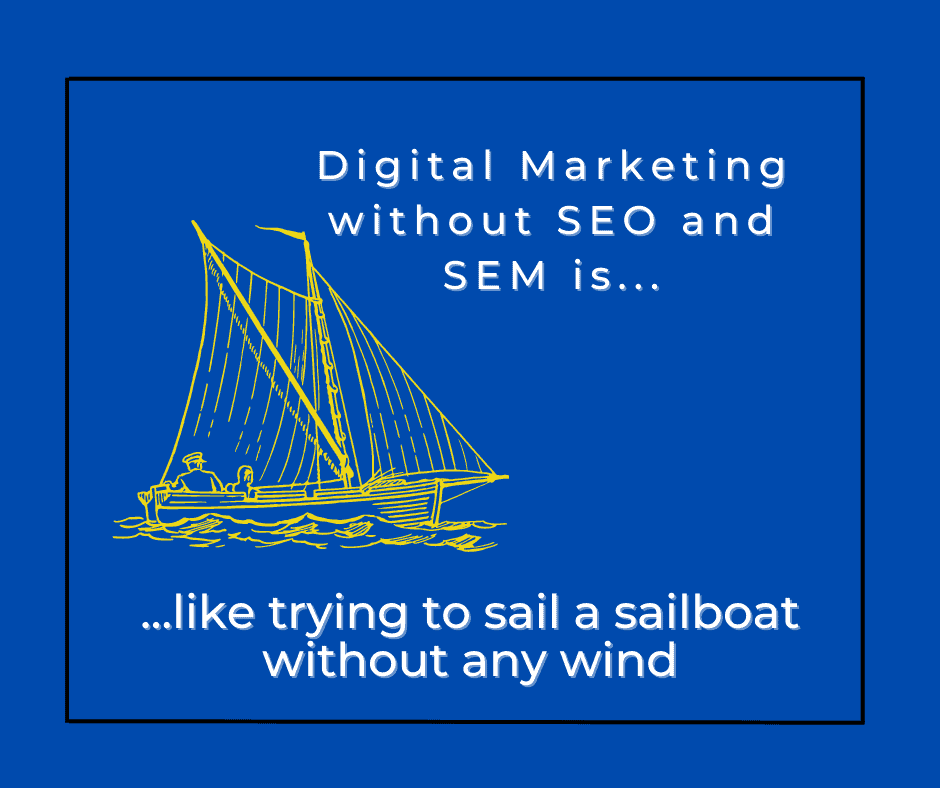 Search engine optimization (SEO) and search engine marketing (SEM) can seem like very similar subjects and services. If you feel confused about what exactly they are and whether or not your business needs them, don't feel bad! We are here to help give you a clear picture on what SEO and SEM really are, and how they can help your business.
What is Search Engine Optimization (SEO)?
SEO is basically the technical configuration of a webpage and overall websites in a way that specifically presents their content to search engines to help them understand their intent. Properly done, the search engine matches the site or page it thinks best matches the user's search intent.
As a whole, SEO is an ever changing industry as the major search engines like Google and Bing are constantly changing and tweaking their algorithms. However, there are essentially two basic areas of SEO activities, which are on-page and off-page SEO.
On-Page SEO
On-page SEO is made up the following efforts:
Clean URL formatting
Natural keyword incorporation in title tags, headings, image alt text, meta descriptions, and content
Mobile friendliness and highly optimal page speeds
Blog posts and copywriting written with clear searcher's intent and is useful
Addressing site security and optimizing search engine result pages (SERPS)
and much, much more
For local businesses, other factors are also highly important, like registering your website with Google My Business and Bing Places For Business.
Online Reputation Management
Additionally, on-page SEO can also help with your online reputation management (ORM). A bad online reputation can lead to a loss of search traffic and faith in your brand, all of which directly impact profitability. Having negative reviews or articles from sources that rank higher than you can also make your paid ads less effective. You could find yourself spending triple what other companies pay to try and buy your way out of the negative results, but your paid ads will often just appear right above the negative information. The result can confuse consumers and make them wary of your business. Organic search traffic is traffic that naturally finds its way to your site. This type of traffic takes time and effort to build, but counteracts this negative content.
Off-Page SEO
Off-page SEO covers areas like:
Social media integration
Creating quality, natural backlinks from other authoritative sites
New keyword research and analysis
Top competitor analysis
Developing baselines for traffic conversions
and much, much more
What is Search Engine Marketing (SEM)?
SEM is the promotion of websites by increasing their visibility and readability in SERPS (search engine results pages). This usually involves outreach to other vendors or authoritative websites for backlinks or references to your website's products and services. Additionally, and more often, a PPC (pay-per-click) model is used for specific, short-term applications by paying for ads on sites like Google and Facebook. However, SEM alone will not be successful without properly performing SEO. At comebefound we prefer to approach local SEO and SEM from a search engine "management" perspective.
This is for the following reasons:
By regularly updating your site with new content, this keeps your current customers engaged, and helps reach new ones
Organic SEO results, which although typically takes longer to produce results, ultimately is proven more cost effective
A naturally organic SEO website will always produce more search credibility than paid ads give
Referral traffic from relevant, extremely valuable content helps your site build internal and external links
According to Brightedge.com, 50.1% of traffic on average comes from organic search results, while only 10% comes from paid ads, and 5% from social media
SEM using a PPC pricing model for paid ads is beneficial depending on your marketing goals, and has a much shorter timeframe than organic local SEO to see potential results. It also allows you to quickly target a specific market or market a limited time offer or special event. We use a data driven approach to both local SEO and PPC / SEM, and we will help ensure you are getting the best return on investment. Comebefound can help you assess not only your immediate SEO and SEM needs, but manage how you get there and beyond.
Still confused?
That's OK, because that's why we are here! We are committed to helping your business go in the right digital direction.
If you take away one thing from this, it should be this stat: in 2016 72% of consumers who did a local search visited a store within five miles of themselves. If your site does not show up, you have lost 100% of those potential customers. Contact us today to see how we can help!